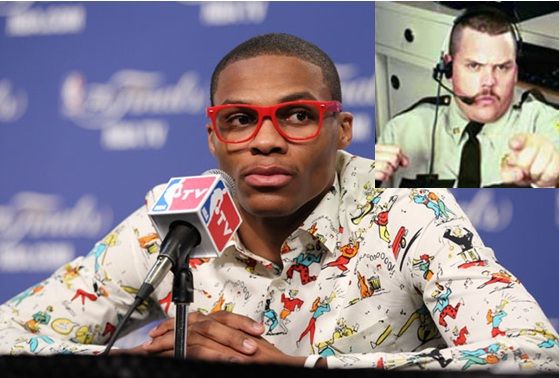 In the aftermath of Russell Westbrook's defensive fail during the final two possessions of the Spurs buzzer beater victory over the Thunder last night, one of my buddies put forth a startling comparison in our oft NBA-related group text.
Russy is like Rod Farva, when he gets excited you gotta calm him down real fast before he does something stupid. 'Easy Rod, easy Rod…'
So, before we get too romanticised by the metaphor, lets explore three ways Russell Westbrook is Rod Farva.
1. Both Russy and Rod are explosive offensively
Let's not forget who we're dealing with here. Russell Westbrook scored 43 points in the finals once. Sure, they lost, but he shot 20/32 and literally carried OKC's stagnant offense for long stretches against the Miami Heat's defensive attack. Often creating ridiculous angles to the rim using his super-human athleticism, Westbrook throws his body around in the paint with every intention of tearing the rim off on your big man's head.
Rod Farva's leap over the burger city countertop can only be described as Westbrook-esque. After taking 2-3 strides to get to full speed, Farva shows surprising athleticism on a two-footed gather to hurdle the countertop and simultaneously smash the prankster clerk into the burger city kitchen. Compare the two videos below and you'll no doubt see the similarities:
2. Russy and Rod share a particular sense of humor
I'm not saying that Farva wouldn't light Westbrook's NBA's Most Improve Player award on fire, but bear with me for a second here. ESPN's new NBA commercial featuring Westbrook driving the bus through a cornfield after accidentally switching his non-perscription frames with the glasses of Jeff Van Gundy, is pretty hilarious. And if you can't picture him reffering to newly-acquired Jeremy Lamb as "rookie biotch!" well then you should just waste your time reading another article.
There's no doubt a guy who wears this shirt, and a guy who puts bars of soap in coffee are able to laugh at their own shenanigans and don't really care when others don't find them funny. I mean "#whynot Wednesday?" cmon now.
3. They just want to be respected
Rod and Russy just want us to respect them for doing a good job. "Car 91 do you need assistance?" "Kevin Durant do you need assistance?"
And they want to do it their own way. The problem is, just when we think it's ok to give them their due, something like what happened last night happens. Russy goes and literally loses Tony Parker for 35 seconds, or Farva drinks all the schnitzs from the open bar. Case and point: In Russell Westbrook's big moment in the NBA finals, after scoring 43 points and keeping his team in the game a jump ball is called with 5 seconds on the shot clock, and after it gets batted around, Mario Chalmers ends up with it and is promptly fouled by our friend Russy. A total Rod Farva moment. It reminds me of that time when good ole Rod pulled over a school bus full of kids and then went apeshit on them. Dumb. Unfortunately for both of our heroes, both incidents were caught on tape.
It's easy to hate Russell Westbrook and/or Rod Farva, but being a part of team WestRod isn't easy. Especially when everyone overlooks your good qualities and magnifies your mistakes.
It ain't easy, bein Westbreezy.